The Ohio Patrolmen's Benevolent Association (O.P.B.A)
The Ohio Patrolmen's Benevolent Association (O.P.B.A) represents police departments and law enforcement agencies throughout Ohio including ranking officers and chiefs.Membership in the O.P.B.A is limited to duly appointed, sworn police and law enforcement officers, correction officers and dispatchers of governmental or quasi-governmental police departments or police agencies or such retired officers, or dispatchers, located within the State of Ohio. This association exists to provide aid and protection to its members, for the education of its members, for the general welfare of its members and their families and for the betterment of police and people of their communities.
Win a Harley
Entry must be received no later than Sept. Sept.1st 2014
The thrill of owning a new Harley-Davidson® is just one entry away with California Casualty's latest "Work Hard/Play Hard" giveaway. One lucky winner will receive a brand new Harley Seventy-two motorcycle, or $10,000.
The contest is open to peace officers, EMTs and firefighters across the nation – people who risk their lives to make our communities safer.
"We know how hard first responders work and we want to keep saying thank you," said California Casualty Vice President Mike McCormick. "We protect American heroes, like you."
California Casualty has been the endorsed partner with the OPBA providing auto and home insurance since 2007.
The Harley Seventy-two is described as a meld of unruly 1970's chopper attitude with today's modern power and styling; it is low rider inspired but radically customized.
Don't think you can't win! Pennsylvania firefighter Robert LaMantia is enjoying long rides on the Harley-Davidson® Forty-eight he won in the "Work Hard/Play Hard" contest in March 2012. Nebraska firefighter Tom Vail took the $10,000 option when he won the contest in August 2013. Other public safety personnel have won personal water craft and all-terrain vehicles.
The deadline to enter California Casualty's latest "Work Hard/Play Hard" contest is September 1, 2014. Entry forms and complete rules can be found at http://go.calcas.com/harley.
The "Work Hard/Play Hard" contest is just a small token to say thank you for everything peace officers do.
For more information about California Casualty and the special auto and home insurance benefits you're entitled to, please visit www.calcas.com/opba.
Headquartered in San Mateo, CA, with Service Centers in Arizona, Colorado and Kansas, California Casualty provides auto and home insurance to educators, firefighters, law enforcement and nurses across the country. Celebrating 100 years of service, California Casualty has been led by four generations of the Brown family. To learn more about California Casualty, or to request an auto insurance quote, please visit www.calcas.com/opba, or call 1.800.800.9410.
Message from the Executive Director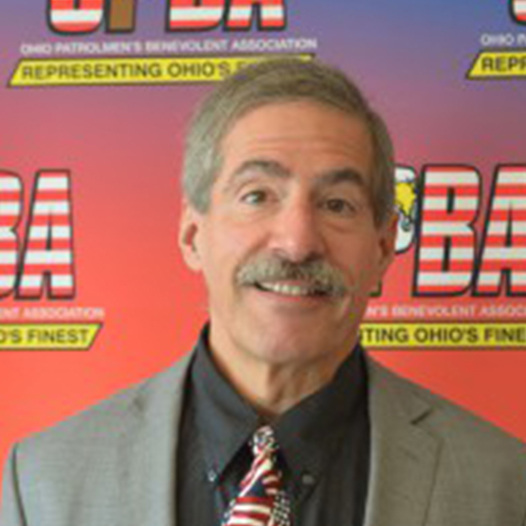 I have been attending meetings of the Ohio Retirement Study Council, ORSC. This committee oversees all 5 public pension systems in Ohio. Late last year the actuary did an analysis of the Ohio Police and Fire Pension Fund, OP & F. It was discovered that the fund was not in compliance with the State mandated 30 year funding requirement. It was at 47 years. This meant by law the OP & F Fund had to submit a plan to the ORSC within 90 day that would get the fund to the required 30 year funding requirement. This plan had to be submitted to the ORSC by January 18, 2014.
The Executive Board of the OP & F Fund submitted to the OSRC the following recommendations to achieve the 30 year funding:
Increase the active employee contribution to 12.25% on July 1, 2014. This is a year ahead of schedule. It was to go to 11.5% on 7-1-14 then 12.25% on 7-1-15.
Increase new hire contribution rate to 13% after 7-1-15.
Lower the percentage of money going into the healthcare stabilization account to .5% from 2.85%. This would mean there would be enough money to subsidize for 10 years. This action will take effect on 7-1-14 and improves the funding period from 47 years to 38 years.
Lower the COLA to 2.25% with Board authority to alter COLA in the future. The lower COLA would apply to all recipients except those that retired prior to July 25, 1986.
Have a blended employer contribution rate for police and fire personnel of 21.61% from the current 19.5% for police and 24% for fire
The next meeting of the ORSC will be in February to discuss the proposed changes. All of the above recommendations would need to go through the legislature except for the lowering of the percentage going into the health care stabilization fund. It is unknown if or even when any action would be taken by the legislative body on these recommendations. The OP & F Fund had an extremely good year of returns on investments in 2013. That along with the poor returns of 2008 coming off the actuary calculations should also help the fund in the future. The good returns along with the recently enacted changes from SB 340, pension reform, should assist the fund in achieving its 30 year target. The OPBA will continue to monitor the changes moving forward.


---
It is that time of year to remind our membership that the OPBA policy is not to release any information to any company or vendor. If a company has information that they wish to send our membership they must use our mail house and incur all the costs of such mailings. There is one free benefit, a $4000 Accidental Death and dismemberment policy, that is currently provided by American Income Life, AIL. Members in good standing do not need to do anything to receive this benefit. If you choose to return the enclosed card from AIL they will contact you to list your beneficiary and to also present other insurance or investment products. This information is in the cover letter. They have assisted at least 6 families over the last 5+ years of being associated with the OPBA. They have similar relationships with other police and labor unions in Ohio.


---
This year, as in the first 2 years of my term, we will be moving our General Membership Meeting to Columbus in March and again to Toledo in October. The purpose of moving the meetings is to allow the membership from different areas of the state the ability to attend without a 2 to 4 hour drive to North Royalton.
Also during the first 2 years of my term the OPBA wanted to give membership in other areas of the state the opportunity to attend a family day closer to their homes. In 2012 we had an event with the Columbus Clippers. In 2013 we had an event with the Dayton Dragons. This year the second event will be in Toledo at the Toledo Mudhens Stadium on Saturday June 21,2014 along with our Indians day on Friday, June 14, 2014. There is limited quantity of tickets for each event and are on a first come first serve basis. There will be the opportunity to purchase additional tickets. There will be additional information as to how to obtain tickets when they become available.