The Ohio Patrolmen's Benevolent Association (O.P.B.A)
Another Attack Against Labor Unions
BY: Jeff Perry, Business Agent
It's not real fun to have to sit across the table from so many anti-union, Management rights extremists. It's worse when the Ohio State Legislators tries to lash out at unions with draconian changes to the collective bargaining law. Now there is another blatant attack against public sector unions taking place in the US Supreme Court!
The outcome to Harris v. Quinn isn't expected until June. If it goes the wrong way, things could go real bad for public sector unions and those they represent.
The topic is fair share fees. They are the fees a union can charge members of a bargaining unit that are not members of the union. The reason unions have been allowed to charge a fair share fee is because the non-members benefit from the work of the union in the same way as union members. In fact, unions are compelled to represent non-union employees should they have disciplinary charges brought against them. They also have the right to file a grievance should the contract be violated. Most importantly to most, they end up getting paid the same wages as union members.
While they don't have the right to participate in the creation of contract proposals or to vote for or against a contract, many union members don't take part in or vote on contracts either. While the OPBA does offer many other benefits over and above those required by law, many other unions don't. Those unions in particular, though all unions in general, would be exposed to the possibility of declining membership.
Many short sighted members would choose to save the cost of the union dues in the hope that the union will do their job anyway. Given the extreme difference in the amount of money I make compared to those working for the dark side (management representatives), and the difference in the amount the dark side charges the Employer compared to what the Union Charges its members, the potential savings would really cost the employees a whole lot more than they might save!
The case was brought from Illinois when the State allowed the Service Employees International Union (SEIU) to organize home health care aids. The employees that brought the case either voted against organizing or aren't members of the SEIU. They don't feel they should even be classified as state workers since they can be fired by the family whose home they actual work in.
Fortunately, the Seventh Circuit Court disagreed. They ruled the Employees did indeed work for the State of Illinois. Further, they followed the 1977 ruling by the Supreme Court that allowed for fair share fees to be charged to non-member employees for those states that allow the fees.
When the case was tried, many of the conservative members appeared to agree with the plaintiffs. Justice Kennedy spoke of the young employee who wanted to fight for wages instead of increased pension, or those who might fundamentally disagree with the direction of the union. However, others did note that many employers in the private sector would rather deal with one union than a large number of individuals.
Hopefully the Supreme Court will keep the fair share fee. In Ohio, we have enough to worry about without losing that!
General Membership Meeting March 6th
Dear Members:
The next regularly scheduled General membership meeting is scheduled for Thursday, March 6, 2014. The meeting will be held at the Doubletree Hotel Worthington. They are located at 175 Hutchinson Avenue, Columbus, OH 43235. As usual, the meeting will begin at 7:30 p.m.
Hope to see you there
Agenda for General Membership Meeting on March 6, 2014

• Pledge of Allegiance
• Review and approve minutes from December 5, 2013 General Membership meeting.
• Updates from OP&F and OPERS Pension systems.
• Update from Ohio Retirement Study Council, ORSC, meeting on February 13,2014.
• Legislation updates from Ohio.
• NAPO News.
• Updates from the Ohio Attorney General's Office.
• Update Upcoming Family days.

• Next meeting: Board of Directors meeting Thursday April 3, 2014 North Royalton, Ohio.
• New Business

• Adjournment

Jeffrey Pedicino Executive Director
Ohio Patrolmen's Benevolent Association
Message from the Executive Director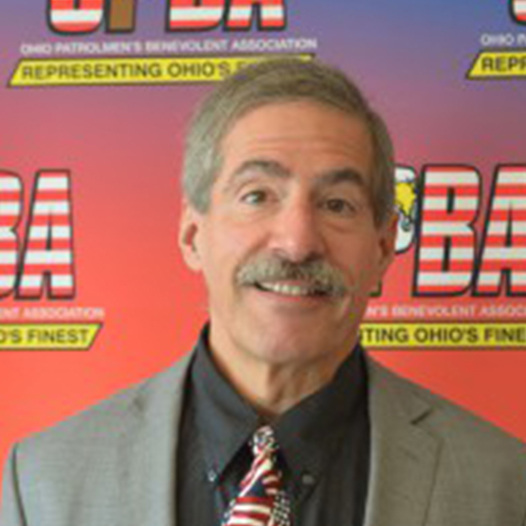 My second full year as the Executive Director is coming to a close on December 31, 2013. There have been quite a few internal operational changes including but not limited to review of a majority of the organizational business relationships that we use on a day to day basis. I will be reviewing the effects of those changes after December 31st to determine if any additional changes should be made in order to make the organization even more stable moving into the future. In 2014 we will continue to move the General Membership meetings to other areas of the state to allow members the opportunity to attend. We will also be looking into moving our 2nd family day into the northwest part of the state.
During my first 2 years the OPBA has been involved with pension reform, a legal challenge to our collective bargaining rights from the City of Munroe Falls (article from the last issue), numerous representational elections, right to work legislation and a citizens petition from the Citizens4Norton that could have had disastrous consequences to our membership in Norton and throughout the State of Ohio. These are just some of the issues that the OPBA has been involved in the last 2 years.
Unfortunately the City of Norton issue has now been put back on the ballot in December 2013. This issue if it passes the 2nd time around would limit the amount the residents pay for sewer and water bills, alter sewer assessments and tie-in fees. The monies needed to pay for this issue if passed would need to come from the general fund and could have a devastating effect on city services and our members who provide services to the residents.
There is currently another citizen driven initiative ongoing for a right to work amendment which would place this issue on the ballot if enough signatures are obtained. Even though legislation that was introduced earlier in the year in the General Assembly has stalled this petition drive is ongoing. Recently Representative Maag has talked about his legislation that was previously introduced. The OPBA will continue to monitor this issue as we move into 2014.
*************************************************************************************
The Ohio Police and Fire Pension Fund is under the scrutiny of the Ohio Retirement Study Council, ORSC, for not being within the 30 year funding mandate. The changes that SB 340 passage implemented have only been in place since July 1, 2013. OP & F will have to submit a plan by January of 2014 to bring the system into compliance with the 30 year mandate. The next ORSC meeting was to be held on November 14, 2013. We will hopefully have more information after that meeting concerning any potential changes.
*************************************************************************************
It is that time of the year to consider any worthy officers for consideration of the 21st Annual TOP COPS Awards sponsored by the National Association of Police Organizations, NAPO our national representative in Washington DC. The TOP COPS will take place on Monday May 12, 2014 in Washington DC. The nomination form and instructions are in this issue as well as NAPO's web site www.napo.org

*************************************************************************************
Lastly, I along with the Executive Board and staff hope that you and your families have a safe, healthy and Happy Holidays throughout the New Year.
The Case for a Facility Dog Program
At the National District Attorneys Association (NDAA) Victims Committee meeting in November 2011, I attended a fascinating presentation by Courthouse Dogs on the use of facility dogs in the courtroom. I had never heard of using a dog to calm victims and witnesses.
As I listened to the presentation, I thought about how having a facility dog in my office would improve not only the experience of victims and witnesses, but our success in trials as well. We decided to apply for our own facility dog.
While the application was pending, we researched case law to guide our facility dog program and determine the level of support for the use of dogs in the courtroom
I learned that courthouse dogs are used around the country to support victims of crime both in and out of court. These specially-trained dogs assist witnesses who may be frightened or nervous about talking about the crime or testifying in court. According to the Courthouse Dogs Foundation's website, there are 49 courthouse dogs in 21 states. In some states, county or district prosecutor's offices use these courthouse dogs to provide emotional support to victims and witnesses.
There is currently no case law about the use of facility dogs in Ohio. However, there have been encouraging rulings in other states. Most recently, the Supreme Court of Washington determined that the trial court did not abuse its discretion in allowing Ellie, a facility dog provided by the prosecutor's office, to accompany a dependent, child-like victim while he testified in a burglary case. Ellie's conduct during the trial never disrupted the proceedings. State v. Dye, --- P.3d ----, 2013 WL 5406430, Wash. (No. 87929-0), September 26, 2013. The Court noted that the trial court instructed the jury not to make any assumptions or draw any conclusions based on the presence of the dog.
This past July a New York appellate court addressed, as an issue of first impression, a trial court's decision to permit a 15-year old victim to have Rose, a therapy dog, assist her while testifying against her father, who had sexually abused her for four years. State v. Tohom, 969 N.Y.S.2d 123 (July 2013). The Court held that the presence of the therapeutic comfort dog did not violate the defendant's due process right to a fair trial, nor did it violate his right to confront witnesses.
In December 2012, a California appellate court supported the use of a therapy dog at the trial of a defendant who sexually abused a 10-year old girl. People v. Spence, 212 Cal.App.4th 478, 151 Cal.Rptr.3d 374.
In the handful of court rulings regarding the use of facility dogs, courts have held that there is no prejudice in allowing a facility dog to accompany a child to court or even sit with the child while he or she testifies. The key to court support appears to be ensuring that the trial court judge instructs the jury to disregard the dog's presence and not allow themselves to feel increased sympathy for the victim because of the dog.
In Summit County, the judges have reacted favorably to our facility dog program thus far. We anticipate adding Ohio to the growing number of states that support the use of facility dogs in the courtroom.
Canine Companions for Independence provided us with our facility dog Avery free of charge in mid-August. Since joining our staff, Avery has met with several child victims. All of the children say how much better they feel when Avery puts his head on their laps or curls up on an oversized chair with them.
We recently had a case set for trial against a defendant accused of violently raping two young girls. The girls, now seven and 10, are terrified of this man. They were somber and scared as they sat in our reception area prior to their first meeting with the prosecutors assigned to the case. The prosecutors brought Avery into the reception area to see the girls, who were immediately excited to meet the dog they had seen on the news.
The girls played with Avery while the prosecutors discussed the case with their guardian. The prosecutors believe that the girls warmed up quickly because of Avery. At that meeting and every meeting thereafter, the girls always asked if Avery would be able to sit with them while they faced their rapist. Although they were visibly distraught with the mere idea of sitting in the same room as that man, they seemed calmer knowing Avery would be with them.
Although this case was continued, the prosecutors say they are confident about the girls' ability to face their attacker in court. Were it not for Avery, the prosecutors say they would have serious concerns about the girls being able to testify.
On a more personal note, Avery has had an unintended but positive impact on my employees. No matter how much you try, sometimes you can't help but take to heart the injustice we see on a daily basis. Witnessing firsthand the violence and cruelty humans are capable of inflicting on one another eventually takes an emotional toll.
When child victims play with Avery, they are able to momentarily escape their trauma. Seeing children who have been through indescribable experiences smiling and laughing and acting like normal kids, when they were shaking and unable to meet your eyes just moments before, makes it a little easier to keep dealing with the horrible things we see every day.
Whether providing support to victims in prosecutor meetings or during trial, I believe a facility dog can help to reduce secondary victimization and improve case outcomes. I expect to continue to see positive results from our facility dog program, especially once we start using Avery in trials and our courts become more comfortable with the idea of a dog accompanying a victim to the witness stand.
If you are a member of law enforcement within Summit County and are working with an especially traumatized victim or witness who you think could benefit from the comfort of a facility dog, we'd be happy to bring Avery to your department. And if you are interested in creating your own facility dog program, my office can provide you with more resources and guidance.
This article is not to be considered legal advice. Please consult your police legal advisor regarding any legal issue.
Sherri Bevan Walsh
Summit County Prosecuting Attorney
Taking Full Advantage of Your Available Pension Benefits
As many of you are aware, while you work as a police officer in your city, at the end of your career you are entitled to benefits through the Ohio Police & Fire Pension Fund. Most officers and fireman are aware of the basic benefits but many don't know how to take advantage of the great pension system we have.
Minimum benefits start at 25 years of service. Whether you fall under the old benefit structure of your three years highest average (benchmarked) or your highest five years average it is important to know the difference in working beyond 25 years. After 25 years of working, should you decide to work beyond that date you will receive a multiplier of 1.5% per year of your average annual salary to a maximum amount of 72% after 33 years of service.
After 25 years of service, you also have the option of entering the deferred retirement option program (you must meet age requirements of 48 under the old system or 52 under the new system). The deferred retirement option program allows you to freeze your benefits and have those benefits deposited into a tax deferred account upon entering into a service retirement (maximum eight years).
To maximize the benefit, if you were to work until you received the maximum of 72% and enter the deferred retirement option program completing it until the maximum of eight years you would be entitled to a very optimal retirement program. Purchasing of prior service also counts toward the years of service you work. You are also entitled to receive benefits that are any combination of 25 plus years of service and the minimum required time in the deferred retirement option program (minimum 5 years to collect interest).
These are only a portion of the benefits available that most members are aware of. You are also entitled to participate in a deferred compensation program. The most popular program is the Ohio Deferred Compensation Program. You can contribute a maximum of $17,500 for 2014. If you were able to contribute just a small amount per day throughout your career and balanced a portfolio along the way, you would have a nice little savings account upon your retirement. Should a deferred compensation program not be of your liking you can contribute to an Individual Retirement Account (Roth or Traditional) which contribution limits of $6,500 for 2014.
Currently the Ohio Police & Fire Pension Fund also offers health care benefits at competitive rates for the member (spouse and children make the cost a lot higher). OP&F covers 75% of the benefit cost for the participant. The fund also offers prescription, dental and vision coverage.
I encourage everyone to revisit the benefits you have available to you and to take advantage of the full complement of options. Please visit www.op-f.org to review the retirement benefits you have available to you. You can download or request the service retirement brochure which explains your benefits in greater detail.
Scott Huff, Trustee
Ohio Police & Fire Pension Fund