The Ohio Patrolmen's Benevolent Association (O.P.B.A)
COPS Hiring Program Briefing
April 18, 2013

The Office of Community Oriented Policing Services (COPS) invited NAPO to a briefing on April 17 to discuss the FY 2013 COPS Hiring Program (CHP). CHP is a competitive grant program that provides funding directly to law enforcement agencies having primary law enforcement authority to hire and/or rehire career law enforcement officers in an effort to increase their community policing capacity and crime prevention efforts. The Acting Director of the COPS Office, Mr. Joshua Ederheimer, opened the meeting by noting that the FY 2014 Presidential Budget Request includes $439.5 million for the COPS Program, which is a 121 percent increase over FY 2012 funding levels. The budget request includes $217 million for COPS Hiring. The following provides details on the CHP application process that were discussed during today's briefing.

Eligibility:

All local, state, and tribal law enforcement agencies that have primary law enforcement authority are eligible to apply.
FY 2013 CUP Information:FY 2013 CHP grants will cover up to 75 percent of the approved entry-level salary and benefits for three years (36months) for newly hired, full-time, sworn officer positions, or for rehired officers who have been laid off, or are scheduled to be laid off on a specific future date, as a result of local budget cuts. A minimum 25 percent local cash match is required.
Under 2013 CHP, there is also a maximum federal contribution of$125,000 per position over the three-year grant period . At the conclusion of federal funding, grantees must retain all sworn officer positions awarded under the CHP grant. The retained CHP-funded positions should be added to the grantee's law enforcement budget with state and/or local funds, and over the number of locally-funded positions that would have existed in the absence of the grant.
The COPS Office has capped the number of officers than an agency can request through the FY 2013 CHP program: all agencies' requests will be capped at no more than 5% of their actual sworn force strength at the time of applications . Agencies with a service population of 1 million or more may apply for up to 25 officer positions; agencies with a service population less than 1 million may apply for up to 15 positions. The request of any agency with a sworn force strength less than or equal to 20 will be capped at one officer.
Timelines:
The COPS Office will begin accepting grant applications for the FY 2013 CHP beginning the week of April 22, 2013.
Applications for this year's CHP solicitation must be completed and submitted by 7:59pm EDT on Wednesday, May22,2013, in order to receive consideration.
The CHP grant award announcement should occur before September 30, 2013.
Copyright © NAPO 2013. All rights reserved.
Application:
-

The application consists of two parts, and both must be completed by May 22nd. Applicants must first complete the SF-424 on www.grants.gov. (The SF-424 is the government wide standard form required for competitive grant application packages). Once the SF-424 has been submitted, applicants will receive an e-mail from the COPS Office with instructions for completing the second part of the CHP application through the COPS Office Online Application System.
Tips:


The briefers stressed the importance of completing the SF-424 as quickly as possible.
Applicants should ensure passwords are current for both the government grants and COPS websites .
Applicants should prepare to identify one community policing problem the agency will address with requested funding. Applicants should consider current and planned community policing efforts and how they can build community partnerships, complement other community initiatives, and move towards organizational transformation.
Applicants should gather information on the need for federal assistance, including layoff and furlough information, unemployment rates, etc., as well as prepare current budgetary information, such as current and projected entry-level officer salary and benefits, as early in the process as possible.
Applicants should secure local approvals before submitting applications.
Before submitting applications, candidates should determine if their agencies can meet the local cash match and federal share requirements or whether a waiver of the local cash match will be requested based on severe fiscal distress .
The COPS Office staff may contact applicants to ask questions regarding the submitted data . Applicants should promptly respond to inquiries, and have a back-up to respond if the applicant is not in the office.
Applicants should print and keep copies of their applications.
Grant writers are not required for CHP applications. The applications are designed for the law enforcement community.
The application process is competitive. Last year, 10% of applicants were funded. However, any interested party should apply in FY 2013, in order to ensure consideration in FY 2014.
Each applicant entity must ensure that it has the necessary processes and systems in place to comply with applicable reporting requirements should it receive funding.
Additional Consideration:


Hiring military veterans is not a grant requirement under 2013 CHP; however, applicants who commit to taking active steps to recruit, hire, and deploy at least one military veteran under FY 2013 CHP will receive additional consideration for ClIP funding . A military veteran is defined as an individual who has served on active duty at any time in the armed service for a period of more than 180 consecutive days, any part of which occurred on or after September 11, 2001, and who has been discharge or released from active duty in the armed forces under honorable conditions.
Additional consideration will be given for applicants who indicate that the officer positions requested will be deployed as School Resource Officers (SRO) . Applicants who choose to do so must choose the "School Based Policing through School Resource Officers" problem area in Section 6B of the online application. Applicants who choose this problem area will not be able to change it post-award. Applicants who do so must deploy their entire officer request as SROs.
All agencies that receive an award for SROs will be required to submit an MOD that details the roles and
responsibilities of the SRO.

Helpful Resources:


For additional information on the CHP application process, visit the COPS Office website at: www.cops.usdoj.gov.
For questions, call the COPS Office Response Center at: 1-800-421-6770.
Copyright © NAPO 2013. All rights reserved .
Message from the Executive Director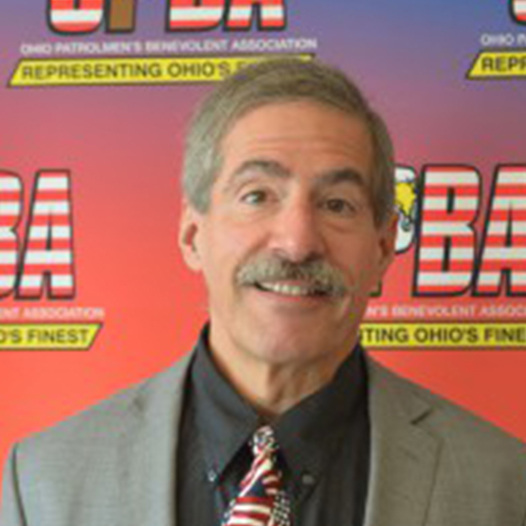 The first year of my term has almost passed. After the hard fought battle with Issue 2 in 2011 we immediately moved into 2012 with pension reform issues. The OPBA became extensively involved in the bills prior to them reaching the House.
One of the more significant changes that the OPBA took in January of 2012 was the decision to retain retired Justice Andy Douglas to be Counsel to the Board of the OPBA. It was with his influence and guidance that meetings were set with the Speaker of the House. At that meeting the concerns with certain facets of the pension reform bills, particularly granting the Pension Board authority to make changes, were raised by the OPBA. I testified at the first House sub-committee hearing on pension reform in August of 2012. The OPBA was present at a majority of the hearings and with Justice Douglas' assistance a personal meeting was set with the Executive Director of OPERS during the hearings. It is the intent moving forward that the OPBA will become more involved at the State level as it relates to the issues that affect our membership.

There have been many changes to the internal workings of the organization that will not be noticeable to the average member. Once the changes that have been instituted are in effect for a while and the others that are in transition are totally implemented there should be increased efficiency to our day to day operations. The OPBA will continue to move the General Membership meetings throughout the State each year which will allow those members living a prohibited distance from North Royalton the opportunity to attend. The March 2013 General Membership meeting will again be in the Columbus area.
The OPBA will continue to rotate an additional Family Day throughout the State in 2013. We will continue to have a Family Day with the Cleveland Indians but in 2013 we are looking into a family day with the Dayton Dragons for our membership in the southwest part of the state.

The most personal and emotional moments of my first year came with the attendance of the services and wakes for those who had passed. One of the last that I attended was for Officer Jason Gresko of our member Department, Willoughby Police Department. This service brought back many personal memories especially the affects these incidents have on not only the officer's immediate family but their extended police family, the department specifically and the entire police community in general. We must never forget the sacrifices that these fallen heroes have made along with their families.

It also reminded me of a poem by Linda Ellis entitled "The Dash". The poem focuses on the significance of each person's dash. Each and every one of our members should be proud of the services that they provide in their chosen professions as they continue to make a difference in the performance of their chosen careers. My pledge is to continue to work for the betterment of our organization and law enforcement in general. The "union" is and always will be the cohesiveness and camaraderie that each and every department maintains and fosters. The OPBA will continue to provide its members with unequaled service and representation.
---

The elections are now over and with the makeup of both houses on the National and State levels basically remaining status quo along with the President winning re-election we must now wait and see what direction they take. We must continually adapt, anticipate and plan for changes that may be occurring in the future. Health care benefits in retirement must be continually monitored since it is not a benefit that is statutorily guaranteed. I have been in contact with a major insurance company in an attempt to determine if they could offer an alternative post retirement health care plan that could be negotiated into contracts other than those currently available. My former department has a VEBA plan, post retirement health plan, but there are few companies that offer such plans. This new plan from this insurance company may allow beneficiaries to be added unlike the plans that are currently available. This will allow members an additional choice that could possibly be negotiated into future contracts to assist with health care premiums and deductibles. As more information becomes known I will make it available.
---
In the following pages there is a TOP COPS Awards Nomination Form from The National Association of Police Organizations, NAPO, our National Organization. This event honors those officers who have gone above and beyond the call to duty. Ohio has had several Top Cop award winners and honorable mentions in years past including most recently the 2011 Top Cop winner from Copley P.D. , Officer Ben Campbell. If you know of any officer who may be deserving of this honor please complete and submit the nomination form. Even if they do not receive the TOP COP award they may receive an Honorable Mention. The incidents or case that they are being nominated for must have occurred or concluded between January 1, 2012 and December 31, 2012.
---

Finally with the Holiday season upon us the OPBA wishes everyone a Happy Holiday and a New Year that is filled with good health, happiness and prosperity.

Receiving Stolen Property: Possession is Not Enough
While on patrol, you run a car's license plate. The car comes back stolen, so you initiate a traffic stop. Should you arrest the driver for Receiving Stolen Property?
That depends. Simply being in possession of stolen property is not enough to warrant a charge of Receiving Stolen Property.
According to the Ohio Revised Code, there are two elements that must be met to prove a charge of Receiving Stolen Property. The first is possessing stolen property. The second is "knowing or having reasonable cause to believe that the property has been obtained through the commission of a theft offense."
In the above example, the driver is clearly in possession of stolen property. But does he know or have reason to believe that car is stolen? Without proof beyond a reasonable doubt in the affirmative, we cannot obtain a conviction for Receiving Stolen Property.
Why does the law require us to prove a knowledge or reasonable belief of the property being stolen? There are many reasons someone may unwittingly have possession of stolen property. For example, a woman may receive stolen jewelry as a gift. A man could purchase stolen electronics at a pawn shop or second-hand store. In some neighborhoods, it is not uncommon to borrow a car from a friend or even a stranger for a brief amount of time in exchange for money.
So how can you prove that second element? First, take a good look at the property. When was it stolen? The longer the amount of time it was reported stolen, the harder it is to prove that the possessor knows or should know the property is stolen, much less is the person who stole it. Does the suspect have anything that would lead that person to believe he was legally in possession of the property? For example, are the keys in the car? On the flip side, is there anything indicating that the property is stolen, such as a punched ignition or a broken window?
Second, interview the suspect and document all answers in your police report. Get the suspect to talk as much as possible about the property. How did he get the property? How long has he had it? Where did he get it? What does he know about it? If a suspect refuses to say where he received the property or is vague about how he got it, it is easier to prove he knew or should have known the property was stolen.
Prosecutors often use Receiving Stolen Property as an alternative to a Theft charge when we can prove the defendant knew the property was stolen but lack the evidence to prove he actually stole it. We may have some evidence that points to the defendant as the person who stole the property. However, we must still meet the threshold of proving beyond a reasonable doubt that the defendant not only possessed stolen property and knew it was stolen, but that he also actually stole it in order to prosecute the suspect for theft.
Consider someone trying to sell jewelry at a pawn shop. The jewelry matches the description of items stolen during a recent rash of burglaries. The seller claims he received the jewelry when his grandma passed away. An investigation reveals that the seller's grandma is still living and never owned the jewelry in question. Obviously the seller was in possession of stolen property. And that he lied about the property's origins proves he had reason to believe the property was stolen. However, there is no evidence other than the stolen jewelry to connect the seller to any of the burglaries. In this case, although we believe he was involved in the burglaries, we can only charge him with Receiving Stolen Property.
Receiving Stolen Property is a good alternative charge to Theft because the thresholds are the same for both charges. Property valued at less than $1,000 is a misdemeanor. Property valued at $1,000 to $7,500 is felony of the fifth degree. Property valued from $7,501 to $150,000 is a felony of the fourth degree. Cars, guns, checks, credit cards and prescription drugs are all felonies of the fourth degree, regardless of their value.
Always remember that possessing stolen property in and of itself is not a crime. A suspect must meet the second element of either knowing or having reason to believe that the property is stolen in order to be charged with Receiving Stolen Property.
This article is not to be considered legal advice. Please consult your police legal advisor regarding any legal issue.
Ohio Police and Fire Pension Fund
As 2013 brings us the changes we needed to preserve The Ohio Police & Fire Pension Fund, the work will still continue to make the fund stronger and stronger. The theme this year will be disability pensions. As we stand, we are one of the few in the country pension funds that offer partial off-duty disability awards. We are also one of the highest awarder of disability pensions in the country with approximately 34% of our retirees being disability grants. The Board of Trustees and the Ohio Retirement Study Council clearly understands that the benefits awarded need to be looked at.
Our process is one of the best in the country. What really becomes the issue is what benefits we pay and what injuries are included in the calculation. Additional factors which increase the benefit also need to be looked at. The Board has added special meetings so that we can timeline these issues and work diligently to make these changes before they are imposed upon us by the legislature. We assure the membership that the Trustees will continue to work toward improving this grant.
On the other end, it may be a little slow on the legislative side so we shouldn't have too much to worry about. We will continue to show the ORSC that we are attempting to make improvements where need be. Our health care stabilization fund is our focus to continue to offer reasonable cost health care for our members and their families. Currently, our health care stabilization fund is healthy and we are looking to keep it that way.
We have recently had a few changes to our administration, John Gallagher is our new Executive Director and Jennifer Harville is our Director of Member Services. John comes to us as the Executive Director of the Chicago Police Pension Fund and has a lot of experience which will help lead our fund moving forward. Jennifer has been with OP&F for some time and is experience in serving our members. Both are great additions to our executive/director staff.
Thank you for your support and please feel free to contact myself should the need arise.
Scott Huff
Cleveland Police
Trustee - Ohio Police & Fire Pension Fund