The Ohio Patrolmen's Benevolent Association (O.P.B.A)
Law Enforcement Bulletin October 2014
October 2014

The community caretaking exception to the warrant requirement is only available when you have a reasonable, objective belief immediate assistance is needed to protect life or prevent serious injury. Otherwise, you need a warrant.

If you have an objectively reasonable need to protect yourself or the public from an immediate danger associated with a weapon, you can question a suspect without giving Miranda warnings.

When conducting a sting operation on a Receiving Stolen Property case, statute requires the seller to give an explicit representation to the buyer that the goods were stolen.

The Attorney General's Ohio Peace Officer Training Academy (OPOTA) offers state-of-the-art courses led by expert instructors. Consider taking a course this November.
---
Message from the Executive Director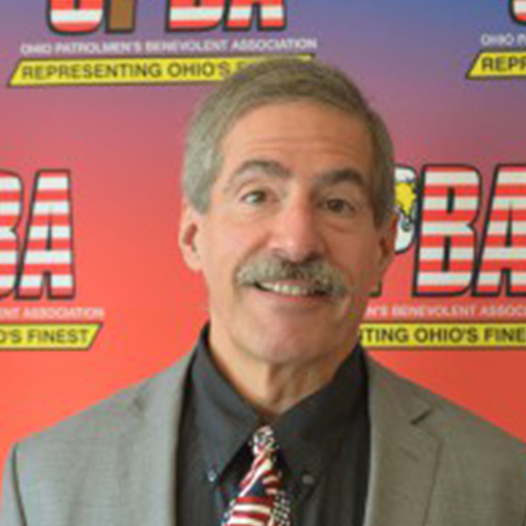 Effective Monday, August 4, 2014, I have accepted a full time employment opportunity which will necessitate my resignation as the Executive Director of the OPBA. I have put a lot of thought and consideration into this decision. I have enjoyed immensely working for the membership over the last 30 months. I leave the organization, staff and the membership with fond memories. I believe that substantial progress has been made over the last 30 months. I also believe that I am leaving our organization in better shape than when I had found it (see related article on page ?? of the fall issue of Police Beat). This new opportunity was not sought by me, rather it was one in which I was sought out. After much thought, internal reflection and discussion with my family this offer was simply one that I could not reject. This opportunity is one that will be career fulfilling, challenging and extremely rewarding.
The OPBA has an excellent staff consisting of our attorneys, business agent and office staff that serves the membership better than any rival organization. The level of service they provide as well as our outside attorneys is unmatched in my mind. The OPBA has taken on new departments and retained existing departments over the last 30 months because of the high level of service that is provided. That service will continue with my stepping down and the leadership of the organization will continue at the highest level.
Tom Austin, current Executive Secretary, will assume the duties of the Executive Director on August 4, 2014. Tom and I have worked hand in hand over the last 5 years and specifically the last 30 months. Tom shares the same vision, passion and desires for the OPBA that I have had since becoming the Executive Director in January of 2012. Though we may not have always agreed, we were able to discuss our differences and come to mutual resolution that always had the best interests of the organization in mind. His law enforcement experience and the experiences that he and I shared and learned from in dealing with Senate Bill 5, from going door to door to participating in phone banks back in 2011 as well as attending coalition meetings, will serve the membership well moving into and beyond the elections in November of 2014.
I believe that Tom will serve the OPBA and membership well and has my full and wholehearted endorsement and support taking the OPBA into 2015 and beyond. I believe that the accomplishments and strides that we as an organization have made will continue to thrive under his leadership.
I wish every member and their family's good health and happiness moving forward. I know that OPBA will continue to provide the superior representation and service that it always has moving forward into the future.
Be safe and careful as you continue to perform your all important duties.
With deepest regards,
Jeff Pedicino
Planning for your Retirement
Planning for retirement can be a very complex task, especially for those that are ill prepared. There are many things you should address prior to punching your final ticket to retirement, and many police officers may not know what those are.
At Lineweaver Financial Group, we feel it is best to be informed and educated about your pension system and the decisions you will need to make. Too many times, we have met with a police officer AFTER they have already retired, only to find out they made choices that weren't best for themselves and their family. In many cases, these decisions are irrevocable and there is nothing we can do to change them, only try to help them in their future. We prefer to meet with employees BEFORE they retire and provide them complimentary advice to help them address the necessary hurdles of retirement planning. This way they can confidently head into retirement knowing they are making informed decisions based on their specific situation.
Following is a helpful retirement checklist that will help get you started in your preparation:
Do you know when you should visit the pension board?
Do you know what your approximate monthly pension will be?
Do you know what pension options are available and which one is best for your family?
How can you get the most from your pension yet still leave assets to your heirs?
Is there a cost effective way to bridge health insurance gaps between retirement and Medicare?
Will the pension option you choose support your current lifestyle?
Are you planning on working after retirement?
Will your social security payments be reduced in retirement?
Do you have all your legal documents updated and accounts titled properly?
Are you aware of the tax restrictions of rolling over your deferred compensation and DROP in retirement?
Have you met with a financial consultant who focuses on helping public employees plan for a successful retirement?
While this checklist won't fully prepare you for the choices and decisions you need to make to have a successful retirement, it will definitely help. We also host complimentary retirement dinners, exclusively for public employees, where we develop these and other topics in greater detail. If you are interested in attending one or simply learning more about our company, feel free to visit our website at www.ohioretire.com or call our office to schedule a complimentary, no obligation retirement consultation with one of our advisors.
Lineweaver Financial Group s 9035 Sweet Valley Drive s Valley View, OH 44125 s 216.520.1711
Securities offered through Sigma Financial Corporation. Member FINRA/SIPC.
Lineweaver Financial Group is independently owned and operated.
Wives Behind the Badge
Wives Behind the Badge, Inc. has been in operation since 2006 when it's founder Rose Winick responded to the need for resources and support for law enforcement families which are unique to the law enforcement dynamic. Wives Behind the Badge, Inc. (WBTB) is an all volunteer 501 (c)(3) nonprofit. WBTB has grown substantially since its inception and its resources and programs have grown along with it. The programs and services are run by our dedicated volunteer staff and include HALOS (Helping Aid Lost Officers' Survivors), Families Behind the Badge, Blue Line Kids, KARE (K9 Assistance Resources Education), Scholarships, Online Forums, and POLICE family training.
HALOS offers sympathy and support in the event of a line of duty or off duty law enforcement or K9 officer death or injury. A beautiful condolence or support card is sent to each family with the contact information of a volunteer (HALOS Angel) who is ready to help with any support needed. Through our partnership with the Arbor Day Foundation, a tree is planted in one of the nationally endangered and protected forests in honor of a fallen officer killed in the line of duty for every year of that officer's service. Our vision is that no family faces these situations alone.
The Online Forums are the backbone of our organization and they provide a secure and friendly place to enjoy the company and fellowship of other law enforcement families. The forums are there to support spouses of officers whether they need to vent, share happy news, or just reach out to someone else who knows what they're going through. Verified members are welcomed to the secure side where they are safe from hackers and predators. Verification is completed by submitting a verification application to the President of our organization, who then verifies the credentials of the officer and the relationship to the member.
Families Behind the Badge provides the same support and resources including a separate and secure support forum for family members of officers such as parents, grandparents, siblings, and children.
Blue Line Kids is a program designed to reach out to minor children of law enforcement officers, who can face their own share of challenges dealing with the law enforcement life. Games, activities, and a summer reading program are just some of the fun things our Blue Line Kids coordinator is doing to reach out to our law enforcement children. Our online BLK forums are closely monitored by staff and completely hidden from the rest of the forum's population to offer a safe online environment for our kids. We have also expanded our HALOS program and now have Blue Line Kids HALOS to reach out to children who are tragically affected due to a line of duty death or injury.
Scholarships are currently offered to children, spouses, and life partners of officers. These scholarships are aimed to promote higher education of children and spouses. This program continues to grow and expand and the number of scholarships offered per year has increased.
The State Auxiliary Committees act as extensions of the corporate offices located in California. Each is registered within their own state to conduct business and fundraise to provide programs and services at a local level. Today, WBTB has auxiliary chapters in most states and in the Philippines. Each auxiliary is led by a director who oversees volunteers in their area. The auxiliaries participate in various activities such as critical incident support, appreciation projects for officers and agencies, planning events for spouses and families, speaking to agencies and families, assisting with graduations and events, and fundraising projects. Our Ohio auxiliary is growing and currently planning some outreach events and assisting with agency events across the state.
Our POLICE family training course is taught by our trained staff and provides education to both the new and veteran families in the subject of law enforcement family dynamics and support. This course is certified in several states and we are currently working to have it certified nationally. The law enforcement lifestyle is unique and when you add a spouse and family into this it can become challenging and complicated, yet rewarding. Shift work, working holidays, birthdays, anniversaries, physical and emotional demands during stressful shifts, long hours, and court all add challenges the average family does not experience. This training course helps families set up their core support foundation so they can work as partners through the difficult distractions and learn to appreciate this lifestyle.
Wives Behind the Badge, Inc. is proud of the programs and services we provide to the law enforcement community. We strive to serve a positive voice for law enforcement in the communities and to help foster a better relationship with community members. We will continue to grow our programs to offer more services and resources for law enforcement families. We are bonded by our lives, one family, one vision, one badge.
To learn more about Wives Behind the Badge, Inc. and our Ohio auxiliary, please visit our website: www.wivesbehindthebadge.org, find us on Facebook at www.facebook.com/OhioWivesBehindtheBadgeInc or email our state director at This e-mail address is being protected from spambots. You need JavaScript enabled to view it .
After seizing a cell phone incident to arrest, get a warrant prior to searching it!
The Supreme Court of the United States recently examined how the search incident to arrest doctrine applies to modern cell phones. The Court noted that cell phones are "a pervasive and insistent part of daily life."
In reaching its decision, the Court weighed the degree to which such a search intrudes on an individual's right to privacy against the degree to which it is needed to promote legitimate governmental interests. The Court determined that the interest in protecting an officers' safety did not justify dispensing with the warrant requirement for searches of cell phone data, nor did the interest in preventing destruction of evidence justify dispensing with the warrant requirement for searches of cell phone data. Accordingly, the Supreme Court held that a law enforcement officer must obtain a search warrant before searching a cell phone that is seized incident to arrest, except under limited exigent circumstances. Riley v. California, --- S.Ct. ----, 14 Cal. Daily Op. Serv. 7045, 2014 Daily Journal D.A.R. 8220, 24 Fla. L. Weekly Fed. S 921, U.S.Cal., June 25, 2014 (NO. 13-212, 13-132).
For law enforcement officers, this decision means that a law enforcement officer may still seize a cell phone during a search incident to arrest and the officer may secure the cell phone in order to prevent the destruction of evidence. In addition, for officer safety, prior to getting a search warrant, the officer may inspect the phone to see if there is any physical threat, such as a razor blade between the phone and the case.
However, before searching the phone's digital data, the officer must either obtain a warrant or satisfy an exception to the warrant requirement, such as showing that there was an exigent circumstance. Exigent circumstances will be very limited because they will require that an officer demonstrate that he was faced with a 'now or never' situation, such as a circumstance where the arrestee's cell phone was the target of an imminent remote-wipe attempt.
The Court concluded that, once a law enforcement officer has secured a cell phone, there is no longer any risk that the arrestee himself will be able to delete incriminating data from the phone. The Court acknowledged that there are additional forms of destruction unique to digital data, such as remote wiping and data encryption, and offered some suggestions. Law enforcement officers can fully prevent remote wiping by disconnecting the phone from the network, which can be done by either turning off the phone or removing the battery. Law enforcement can prevent encryption or other potential problems by leaving the phone powered in an enclosure that isolates the phone from radio waves, known as a "Faraday bag."
In light of this recent decision, law enforcement officers must obtain a warrant to search the digital data contained within a cell phone, with limited exceptions. After seizing the phone, the officer should take appropriate actions to ensure that digital data from the phone is not destroyed via methods such as remote wiping or data encryption.
This article is not to be considered legal advice. Please consult your police legal advisor regarding any legal issue.
Sherri Bevan Walsh
Summit County Prosecuting Attorney