The Ohio Patrolmen's Benevolent Association (O.P.B.A)
Having Weapons Under Disability: Separating Fact from Fiction
A police officer initiates a traffic stop on a car with several individuals inside. Upon approaching the vehicle, the officer sees a gun sitting in plain view on the center console. The officer immediately pulls all individuals out of the car.

The officer discovers that the driver has a warrant out of municipal court for failure to pay court costs on a misdemeanor assault case. The front seat passenger has prior convictions for possession of marijuana, Vicodin and drug paraphernalia, as well as a resisting arrest conviction. One of the rear passengers has prior felony convictions for grand theft, tampering with evidence and forgery.

The officer charges all three individuals with Having Weapons Under Disability. However, he is stunned to find out that all three charges were no billed at grand jury.

What qualifies as a "disability" for purposes of a Weapons Under Disability charge can sometimes be confusing. Laws change, and how those laws are interpreted by the courts is constantly evolving. There are five basic "disabilities" under Ohio law, and reviewing them can help all police officers separate the myths from the facts. Those five disabilities are:

1. A prior felony drug offense
This is one of the most common disabilities, and also one of the most misinterpreted. Before House Bill 86 was enacted, any drug offense qualified, including misdemeanors. However, only felony drug offenses now qualify. A juvenile offense also counts.

2. A prior felony offense of violence
Murder, rape, felonious assault, aggravated assault, aggravated robbery, aggravated burglary, felony domestic violence and robbery are the most common. The statute lists many crimes that are considered felony offenses of violence, so when in doubt, contact my office or your police legal advisor. As with the drug offenses, a juvenile offense also counts.

3. Fugitive from justice
Most police officers assume that anyone with a warrant qualifies. This is not necessarily true. Before charging under this section, you should first determine if the suspect knew he had a warrant (a necessary requirement) and also whether that suspect was actively avoiding capture by law enforcement. This section would be difficult to prove if the suspect was simply hanging out at home or in his own neighborhood, or if he was otherwise simply going about his normal business.

4. Drug dependent, in danger of drug dependence or alcoholic
This section is rarely used for a disability, but can still be used with the proper proof. If a suspect is actively in drug treatment or was recently released from a drug diversion program, this section may apply.

5. Adjudication of mental incompetence or mental illness
This section is also rarely used, and should not be charged without consulting with the county Prosecutor's Office or your department's legal advisor. There would need to be documented proof of a serious mental illness for this to apply.

Another thing to remember, especially when looking at prior convictions as a source of disability, is whether there truly was a criminal conviction in the first place. Sometimes an arrest report, LEADS or other computer check will show an arrest but not a conviction. For example, if the arrest was for a felony drug offense but the suspect pled to a reduced misdemeanor charge, that would not qualify as a disability. Only looking at the court's original journal entry can confirm a prior conviction.

When in doubt, contact the county Prosecutor's Office or your police legal advisor. As always, knowing what separates fact from speculation when it comes to the law and how it is interpreted can increase the chances of a successful prosecution.


This article is not to be considered legal advice. Please consult your police legal advisor regarding any legal issue.

Sherri Bevan Walsh
Summit County Prosecuting Attorney


Moving Past The Past Practice Misconception
Over the years I have noticed many misconceptions that OPBA members possess in the area of labor law. Those misconceptions range from "the law provides us with guaranteed breaks" to "HIPPA prevents my employer from inquiring about my illness" to "we've always done it that way so it's a past practice."
Each of these misconceptions has a basis for belief but none are actually true. In this article I examine and discuss the real law and meaning of the popular term "past practice".

Past practice is a term of art that arises when a party to a collective bargaining agreement attempts to enforce a "practice" regarding a matter that is not included in the written contract. It is also asserted in order to assist in the actual interpretation of a confusing written term of a contract. And finally, past practice is sometimes cited to support a claim that a "clear" term of the written contract has been "amended" by mutual agreement as evidenced by the parties' past practice.

Evidence Required To Establish A Past Practice
Most arbitrators have recognized that for a past practice to be established that certain elements must be proven in regard to the practice. The practice must be unequivocal; clearly understood and acted upon; and readily ascertainable over a reasonable period of time as a fixed, and established practice accepted by both parties.

A couple of understandable ways that arbitrators have defined a past practice are: "a pattern of conduct which appears with such frequency that the parties understand that it is the accepted way of doing something"; "a practice exists when a certain result has been utilized in repetitive and identical circumstances"; "a practice is established if, when one circumstance occurs, it is consistently treated in a certain way". To constitute a past practice, the occurrence need not be daily or weekly, or even yearly, but when it happens, a given response to that occurrence must always follow.

Past Practice When The Contract Is Silent
In cases where the labor contract is completely silent with respect to a given activity, the presence of a well-established practice may constitute an "implied" term of the contract. In law, an implied term of a contract is as enforceable as a written term.
In labor law, though, the enforcement of an implied term often depends on whether the term involves methods of operation and/or direction of the workforce or whether it involves a benefit of personal value to the employees. Generally, past practices involving a benefit are permitted to become an implied term while practices involving the exercise of management rights are not.

As we all know, arbitrators have permitted wide authority in management to control methods of operation and to direct the work force, including the right without penalty to make changes if the changes do not violate some right of the employees granted elsewhere by the written contract. As such, arbitration case law contains many examples of a past practice not becoming an implied term sufficient enough to prevent management from: changing work schedules or reassigning work or determining the number of workers or eliminating a job and/osr adding or eliminating job duties within reasonable limits. The rationale behind these cases is that if management really intended to concede its management rights, then it would do so expressly in writing, and not implicitly.

An illustration of this outcome would be a situation where management has retained its right to schedule and pursuant to that right management has utilized fixed shifts for several years. Despite this history the parties have not referenced such a practice anywhere in their labor contract. When the employer suddenly decides to implement rotating shifts instead, most employees think that the long standing past practice of utilizing fixed shifts will prevail. Uh, no; the contract is silent and the implied term we think exists will not be enforced because a management right relating to running the operation is involved.

In contrast to the freedom management is afforded regarding its basic functions, arbitrators often rule that past practice matters involving "a benefit of peculiar personal value to the employees" can be implied enough to become enforceable. Because these matters generally do not involve management rights and because a long standing but unwritten benefit is at stake, arbitrators have found the provision of the benefit to be implied.

Arbitrators reason that an employer would not ever provide something of value to its employees, regularly and routinely, unless it intended to do so. Wash-up periods, lunch period arrangements, paid work breaks, free coffee or free meals, payment of employee's salary during workers' compensation waiting period, release time for collective bargaining, allowances and maternity leaves of absence are all examples of a "benefit of a peculiar value" that arbitrators have permitted to become implied terms of a contract.

A great example of a past practice becoming an implied term of the contract involves the giving/taking of a promotional test in 24/7 operation like a police department. In this instance there will always be candidates taking the exam while they are on duty and other candidates taking the exam while they are on their off time. Yet rarely is there a contract term that addresses this activity.

In most cases involving this activity the parties have, knowingly or not, developed a past practice of releasing working candidates from duty and/or compensating off duty candidates for attending. Even though this may happen once every three (3) years, it happens the same way each time. Should the employer ever decide to terminate such a practice and refuse to pay those taking the test while off duty, it will probably be on the losing end of an implied term past practice case.

Past Practice Used To Interpret A Contract Term
The most common use of a past practice is for the interpretation of ambiguous or unclear contract language. This makes sense because unclear language can best be defined or explained by the parties' "intent" in agreeing to and constructing the contract's language. And a party's intent is most often and best defined in its actions. Those actions are demonstrated and measured through the "practice and custom of the parties" in relation to the unclear term. Thus the parties' past practice often provides the real meaning to an unclear contract term.

The general attitude of arbitrators is that they give great weight to a past practice when interpreting unclear language. They routinely rule that where a practice has established a meaning for language in a contract, the language will be "presumed" to have the meaning given it by that practice.
A past practice used to interpret an ambiguous term does not have to be so "frequent and regular and repetitious." For purposes of interpreting ambiguous language, relatively few past instances have been required to establish a binding practice. This is especially so when the incidents giving rise to the issue rarely occur. So long as the parties' practice is consistent upon each infrequent occurrence, it still rates as sufficient to define the ambiguous term.

Past Practice Used To Permit Variances From Clear Contract Language
While past practice is frequently used to establish the intent of contract language that is subject to different interpretations, it rarely can be used to alter the meaning of a clear and unambiguous term. In almost every instance the clear language is enforced. This is so even where an arbitrator overwhelmingly believes that, on the basis of fairness, the past practice should have prevailed.

Here are some illustrative arbitration holdings standing for the principle that clear language always trumps a past practice: "Where a conflict exists between the clear and unambiguous language of the contract and a long standing past practice, the Arbitrator is required to follow the language of the contract"; "While the Arbitrator recognizes that it is difficult to accept the overturn of a fifteen (15) year past practice, the Arbitrator is required to do so in light of the clear and certain language"; "Past practice" is a useful means of ascertaining intention in case of ambiguity or indefiniteness, but no matter how well established a practice may be, it is unavailing to modify a clear promise."

A good example of this principle involves the specific time limits set forth in a grievance procedure that also includes a provision requiring the parties to "strictly adhere" to such time limits. Even though the parties may have established a past practice of routinely ignoring and/or relaxing those specified time limits, should one or the other insist that one acted untimely, that insistence will prevail. This is because of the contract's clear language requiring strict compliance.

Any past practice that the parties have mutually followed or that have been enforced by an arbitrator can ultimately be broken and discontinued. This can only occur, though, upon the expiration of the contract, during the collective bargaining process. At the table the party who wants to terminate the practice simply declares that the practice will no longer be recognized, thus allowing or forcing the other party to regain (or not) the practice through the bargaining process.
As the foregoing indicates, what OPBA members often think of as a past practice is probably still a past practice. It is wrong, however, to think that every past practice can be made to be binding as if it was a written contract term. For further guidance and explanation of the law of past practice, consult your OPBA Representative.


Ohio Police and Fire Pension Fund
In the next month or two (depending on when you receive this article) will determine the direction of our pension fund. Although strong we are in need of changes. Recently we have seen the Senate pass bill 340 through swiftly expecting the House to follow. Since that time we have seen the same dog and pony show the legislature continuously portrays while delaying the vote on important legislature. Regardless of how we feel about the bill knowing nothing is perfect, reform is needed. All believe and have relayed how certain parts of the bill are unfair but are willing to accept most of it; knowing that something needs to be done.
There have been some unique features implemented into SB 340 but most items included come from the initial proposals from 2011 recommendations of OP&F Board of Trustees. One item added to the bill will give the board more authority to implement changes without legislative approval for items such as age of retirement and employee contributions. It is important to remember that the board did not ask for this implementation and that whatever the sentiment is; the legislature is on the track to "pass the buck" and decision onto the fund. In our best analysis they do not want to be responsible for decisions regarding our fund in the future.

While all of these items will create change we are still attempting to implement items administratively to do our best to preserve the best we can for our fund. We are studying the implementation of W2 reporting and calculating system as opposed to the current system we use. This system would potentially include items that are now not currently added into our pensionable wages. It is currently used by the Ohio Public Employees Retirement System and appears favorable for the members. We are working constantly to improve the administrative rules for off-duty non-catastrophic disability awards. These "off-duty" awards represent over 20% of all disability awards by the fund. We have had other discussions about potential member favorable changes and keep in mind always that we would consider restoring benefits should economic conditions change.
I promise to keep the membership informed and offer your voice to our board should you have a concerns, questions or comments. Although we do not know if the bill will pass or when it will be voted on; we do know that your fund will remain strong and we will do all we can to preserve it for yourself and future retirees. I appreciate your support and please direct any questions or comments you have to me via email at This e-mail address is being protected from spambots. You need JavaScript enabled to view it . Take care and be safe.

Scott Huff
Trustee for the Ohio Police & Fire Pension Fund


Sept. 2012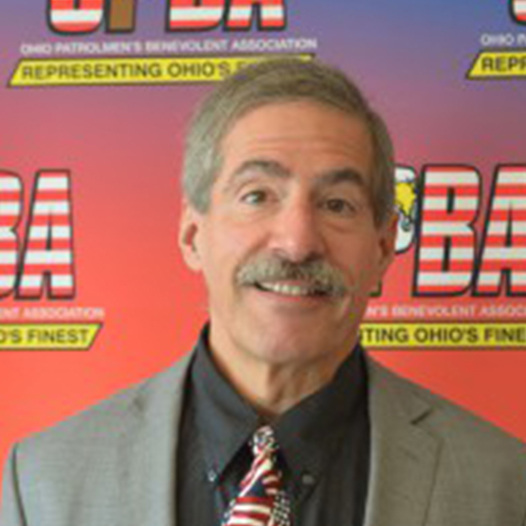 Summer has passed and our 2 family days with the Cleveland Indians and Columbus Clippers were well attended. The latter, however, was on the eve of the funeral for Deputy from Delaware County Sheriff Department Detective Dan Otto who died in a tragic accident while in California. Our thoughts and prayers go out to his family, friends and department for their loss. Our Annual Golf Outing was held on July 18, 2012 at Mallard Creek and it was also well attended and a success. This outing is the only formal fundraiser for the Police Benevolent Fund to date.
---
The attention now turns to the pension reform bills that are proposed in Columbus and the elections this November. Justice Douglas, the CPPA and it representatives and I met with the Speaker of the House prior to the release of the pension reform study. The message that Justice Douglas and I left with the Speaker was that the legislature needs to act on the proposed changes immediately. These changes have been almost 3 years in the making and further delay to will affect the viability and solvency of the pension systems. The OPBA expressed our reservations with the granting of authority to the pension board to make changes to the systems without legislative interaction. The links to the respective bills S.B. 340, OP & F, and S.B. 343, PERS, can be found on our website by clicking on Senate Bill Analysis for the respective bills. Testimony should have been heard by the House in August with an eventual vote hopefully before the November elections. The report on the 30 year plans for the pension systems may be viewed on the Ohio Retirement Study Council web site at http://orsc.org check under the reports section: thirty year funding plan. If you go to the Ohio Legislature website, http://www.legislature.state.oh.us/, you can check for updates on the status of these bills.

Health care is a concern as our members approach retirement and are in retirement. We have met with the Executive Director to voice concerns for OPERS proposed changes but to also educate me on the plan. Unfortunately, our health care benefits are not guaranteed in our public pension systems by statute. As stakeholders, members should voice their concerns and objections to their respective systems as well as any objections that may come from the OPBA. I have directed the members of the Executive Board that are in OPERS-LE to monitor and advise me of relevant information since I have never been a member of that system. The lack of any guarantees for health care is the reason that I have written two articles on post retirement health care plans to be negotiated into contracts. In my former department, Solon PD, we had negotiated that provision into our contract in 2005.
---
The National Association of Police Organizations held its Annual Convention the last week of July. Invitations had been extended to both Presidential campaigns. Vice President Joseph R. Biden Jr. addressed the convention; however, there was no response from the presumed Republican Presidential candidate, Governor Romney, or any representative from the Republican Party. The endorsement was unanimous for President Obama. I realize that personally there may be reservations with this but Governor Romney has stated he favors defined contribution pensions over our defined benefit programs. Governor Romney also stated his unwillingness to support expansion of collective bargaining rights. Executive Secretary Tom Austin has a separate article with the endorsements to date of candidates from Ohio. Justice Terrence O'Donnell, Justice Robert R.Cupp and Justice Yvette McGee Brown who appear on the front cover were endorsed by the OPBA for the Ohio Supreme Court.

Other speakers at the convention included Director Bernard Melekian of COPS U.S. Department of Justice who spoke on the COPS program and from the U.S. Department of Justice; Thomas Abt, Chief of Staff; Office of Justice Programs spoke on the Public Safety Officers Benefit Act, PSOB. There was a pledge by Mr. Abt to reduce the delays in the granting of benefits to the families requesting them. NAPO has worked with member organizations to assist them in receiving the benefits for families from their organizations in obtaining benefits that may be delayed from PSOB. NAPO has argued that benefits from PSOB should not be tied to officers wearing their bulletproof vests if purchased through the assistance of the federal government. There is more information in the articles from the NAPO July Washington Report on PSOB and COPS funding.
---

The next General Membership meeting in October will be held in the Toledo area. The remaining Board of Directors meeting in November and General Membership meeting in December will be in North Royalton. The movement of the General Membership meetings will continue to rotate throughout the State of Ohio to afford our departments throughout the state a chance to attend meetings.



Saving for College? Does a Roth IRA or 529 plan fit the bill?
Saving for College? Does a Roth IRA or 529 plan fit the bill?
A Roth IRA can be used as a retirement planning tool and an education funding tool.

Parents who want to save money for their own retirement and save money for their children's college expenses have many complicated and competing choices. One of the most basic, but most important, decisions is where to invest the money. For example, parents who want to protect their savings from taxes can choose among 529 college savings accounts and Roth IRAs. Both types of accounts require investors to contribute after-tax money. However, many people do not realize that both 529 plans AND Roth IRAs allow tax-free withdrawals of contributions for children's college expenses. But there are many key differences, including state tax liabilities, limits on who can use them, financial aid ramifications, and investing options.

Contributions to both Roth IRAs and 529 Plans are not deductible for Federal Income Taxes, but 529 contributions may be partially deductible at the State level. Contributions to an Ohio 529 plan of up to $2,000 per beneficiary per year (any filing status) are deductible in computing Ohio taxable income, with an unlimited carry-forward of excess contributions. The withdrawals of the contributions from both accounts are tax free. The earnings or profits spent on college tuition come out of the 529 plan tax free; in the Roth IRA, if you are under 59½ and haven't waited five years since contributing, the earnings may be taxable. If thinking about using the funds for education expenses other than college, i.e., private high school, the 529 plan might not be the best bet.

Another nuance between the two plans involves your ability to contribute to each plan. The 529 plan has very high annual contribution rates and contributions are not limited by your income level. Contributions to a Roth IRA are limited by your income to the point where those with higher incomes may even be phased out and unable to make any contributions. The annual Roth IRA contribution rate for 2012 for those less than age 50 is $5,000 per parent. Those age 50 and over are eligible for an additional $1,000 per year contribution. A definite benefit for police officers is that contributions to a Roth IRA are not offset by any deferrals to your 457(b) deferred compensation plan. If you fall within the income guidelines, you can contribute to both.

When applying for financial aid, the treatment of both accounts when calculating the Expected Family Contribution (EFC) is treated entirely different. A Roth IRA does not enter into the calculation of the EFC; a 529 does. Effective with the 2009-10 academic year, the value of all 529 college savings plans, prepaid tuition plans and Coverdell education savings accounts owned by a parent or by the parent's dependent children must be reported as a parent asset on the FAFSA. For this reason, many consider a Roth IRA to be the better planning tool when trying to maximize financial aid. Parental assets are assessed at a maximum 5.64% rate in determining the student's Expected Family Contribution (EFC).

The surprise for many parents is the potential financial-aid penalty of using a Roth IRA: The entire IRA distribution, taxable or not, must be included in base-year income on the student's federal financial-aid application for the following year. This can reduce the amount of future need-based financial aid. Qualified distributions from a 529 do not count as income or a resource for future calculations.

When we have a client open a 529 plan, we always suggest they let other family members know that at gift giving time other family members can contribute to the college funding of the intended beneficiary. That is definitely one drawback with using a Roth IRA for education funding; others are less likely to contribute to your Roth IRA.

Before deciding between using a Roth IRA or a 529 Plan as a college funding tool, you want to understand all of the details: how you put money in, how you take money out, and how the ins and outs are treated for tax and financial aid calculations. If you have questions on whether a Roth IRA or a 529 plan is best for you, give Lineweaver Financial Group a call 216.520.1711, and we'd be happy to provide complimentary advice based on your situation.

Lineweaver Financial Group
9035 Sweet Valley Drive
Valley View, OH 44125
216.520.1711
www.lineweaver.net
Securities offered through Sigma Financial Corporation. Member FINRA/SIPC


Remember in November

Since we publish only four times a year this is the last chance before November elections to remind everyone who their friends are. Last year we fought a bruising battle to keep collective bargaining rights in the face of republican efforts to gut your rights.

Ohio was not unique, however. Similar battles played out with less success in places like Wisconsin, for example, where nearly all public employees lost their collective bargaining rights. It used to be that the republican party's hatred for government was directed at the federal government. That same hatred is now being directed at all levels of government. Here is a newsflash for our members: YOU ARE THE GOVERNMENT!
Please recall that the State of Ohio balanced its budget on the backs of the cities and counties. Sales tax revenue that used to go to local government has been slashed each year of Governor Kasich's administration and such revenues will soon be reduced to nothing. Likewise, in another giveaway to the wealthy, inheritance taxes are being eliminated which further squeezes local government financing. So even though the State is projecting a $500 MILLION budget surplus, Kasich and the GOP are proposing more giveaways to the rich but no restored funding for local government.

Although the private sector economy continues to improve, the government-haters continue to squeeze local governments. Even though we're not seeing as many layoffs and furlough days as in the recent past, the local governments continue to squeeze our members. As officers retire they are not being replaced so we see shrinkage through attrition. Training budgets are being cut to the bone. Some employers are now refusing to replace ballistic vests. I know of departments where the officers are using their own money to replace things like windshield wipers on city cruisers. All of these problems can be traced directly to republican policies that favor the rich and screw the working men and women.

Across the country we are seeing police pensions being gutted by the government-haters. Manpower is being reduced to dangerous levels and all the while the fat keep getting fatter. The next big attack to watch for is so-called "right to work" legislation. Proponents of right to work claim that it creates a business-friendly environment that attracts new jobs. If that were true then states like Alabama would have low unemployment and poverty rates but we know that isn't the case. Right to work is about union-busting, period.

The government-haters will tell you what you want to hear to get your vote and then they turn around and try to screw you. It is high time to stop voting for the government-haters and start voting for government supporters.


Recent Court Case of Interest

The Ohio Supreme Court and the United States Court of Appeals for the Sixth Circuit recently decided cases concerning separate issues, both of which may be of interest to some of our members.

The Supreme Court, in The State ex rel. Village of Oakwood v. Industrial Commission of Ohio, et al., 2012-Ohio-3209 (July 18, 2012) addressed a dispute concerning a Workers' Compensation claim for a police officer who was working special duty for a private employer.

Specifically, the police officer was performing traffic-control duties on a construction project, in full uniform, utilizing his police cruiser. As is often the case with special duty, however, the officer was being paid directly by the private employer, a construction company.

The issue, that resulted in litigation, arose due to the fact that the officer was injured when his police cruiser was struck by another vehicle driven by a private citizen.

The officer properly filed a Workers' Compensation claim which was initially allowed against the public employer for whom he was employed as a police officer. Later, the Bureau of Workers' Compensation issued another Order naming the private construction company as the proper employer.

At the final levels of administrative appeal, the decision was again reversed and it was determined that the City was the correct employer.

The City filed a complaint in the Franklin County Court of Appeals alleging that "the Commission had abused its discretion in finding it to be the amenable employer."

The Appeals Court upheld the Commission's decision and the City appealed to the Ohio Supreme Court.

The Supreme Court upheld the Court of Appeals and the Commission's decision, by stating:

¶ 14 The staff hearing officer examined the totality of what he considered to be the relevant circumstances in this case and made determinations supported by evidence in the record. We have "consistently recognized and generally deferred to the Commission's expertise in areas falling under the agency's jurisdiction." State ex rel. FedEx Ground Package Sys., Inc. v. Indus. Comm. 126 Ohio St.3d 37, 2010-Ohio-2451, 930 N.E.2d 295, ¶ 27. Accordingly, we defer to the Commission's expertise in finding [the City] to be the amenable employer.

The good news for our members is that the Court made it clear that there was no doubt that the injury happened in the course of employment.

The only uncertainty was which employer was the responsible employer for purposes of the Workers' Compensation Act. In deciding this difficult question, the Court also indicated that these cases are very fact specific, and thus, a flexible, rather than rigid analysis, will be applied to the actual circumstances to determine the responsible employer.

In another case of potential interest, the Sixth Circuit Court of Appeals, on Petty v. Metropolitan Government of Nashville & Davidson County, Nos. 10-6013/6105 (July 24, 2012), applied the Uniformed Services Employment and Reemployment Rights Act ("USERRA") in favor of a Police Sergeant who was returning to his department from active service in the United States Army.

The controversy in this case resulted from the fact that the returning veteran was not immediately reinstated by his employer to his former position.

Instead, the employer subjected the employee returning from military leave to a separate return to work process which included, among other things, a drug screening, a personal history update questionnaire and a meeting with the Police Department psychologist.

Due to answers given on the questionnaire regarding his separation from the army, the police department commenced an investigation against the returning officer and, eventually, terminated him.

The returning Sergeant then filed a complaint in federal court alleging violations of the reemployment and anti-discrimination provisions of USERRA.

In affirming the lower court's decision to reinstate the employee to his former position of Patrol Sergeant with back pay and partial liquidated damages, the Sixth Circuit held:

We find no fault with the Court's conclusions. USERRA prohibits employers from placing "additional prerequisites" on returning veterans seeking to exercise their reemployment rights. See 378 U.S.C. §4302. Petty I found that rescreening employees before reemploying them constituted such an "additional prerequisite," and concluded that Metro's additional investigation violated this prohibition. See Petty I, 538 F.3d at 440-41. Though USERRA may permit Metro to terminate Petty for dishonesty after reemploying him, Metro never restored Petty to his position as patrol sergeant. Accordingly, we hold that the district court properly exercised its discretion in awarding Petty back pay and reinstatement under his reemployment claim.

Obviously, issues concerning Special Duty injuries and reinstatement from the military can be difficult and complex. Please do not hesitate to contact your OPBA representative with questions concerning these or any other workplace issues.


The Serb Wage Increase Breakdown pt.2
by: Jeff Perry

The economic news we are hearing every day has been much better than what we were hearing during 2009, but not nearly so good as 2011. The economy is still growing in the USA, but not quite as fast as predicted. Unfortunately, the predictions were already anything but quick.

There are many who fear the economy is heading into another recession due to the economy slowing down worldwide and the dept crisis in Europe. Hopefully, that is not going to be the case. If that prediction comes true, we will all be in for a rough time.

The various branches of the government are generally improving economically. While there are few jurisdictions that are hiring yet, the number of layoffs has decreased markedly, and revenue has returned to the general vicinity of pre-recession numbers.

The State Employment Relations Board (SERB) has released the wage settlement report for 2011. The economic mess really hit around the last quarter of 2009. The negative impact from recession hit the public sector twelve to eighteen months after. The impact to wage increases is plain to see. This is by far the worst average wage increases ever recorded by the SERB.

The State wide average increase is wages for 2012 was 0.57%. In 2006 it was 3.01%. The average wage increase has decreased every year since then. The range over the ten years of the survey was 0.57% in 2011 up to 3.59% in 2002. This is a trend that must end!

The Cincinnati region had the largest decrease in wage rate increase from the following year of 0.71%, down to 0.49%. The lowest regional increase award goes to Cincinnati as well. Bad year for the south west section of Ohio!

Only one of the regions saw their rate of wage increase go up from the last wage survey, Southeast Ohio. Their wage rate went up 1.38% from 1.23% last year. That was the highest increase in wage rates as well. The Columbus Area has the distinction of having the second largest increase in wage rates from 2011 to 2012. Their average increase went up 1.12%. These were the only two regions that had wage increases averaging over one percent!

Townships were the jurisdiction that had the highest increase in rate of wage increase over 2011. They had the highest percent for the third year in a row. They were the only jurisdiction to get over a one percent wage increase as well. However, they had the largest decrease in wage increase from 2011 to 2012 as well, going from 1.99% to 1.25%. School Districts came in last with a meager 0.35% increase.

Police did have a smaller decrease in the percent of wage increases compared to the other unit types. However, the Fire did much better than police once again, with 0.27 percent more. Fire did much better than any other unit type for the last four years, and seven out of the last ten years. The teachers found themselves on the bottom of the pack again. They increased their percent wage increase by an average of 0.36%. That meager wage increase resulted from the largest decrease from last year, of 0.62%.

The first year of most contracts usually had the smallest wage increase of the contract last year. The last year of the contracts had the largest. This is referred to as back loading a contract. Unions usually prefer to get the most we can as soon as we can, since it maximizes the amount of money earned over the life of a contract.

News of the State budget looks pretty good so far. However, that doesn't mean the Governor has any plans to return any money to the local government funds. He still wants to squeeze the Cities so he can spend the tax money as he sees fit. Hopefully, things will change in Columbus come November.