The Ohio Patrolmen's Benevolent Association (O.P.B.A)
Elect Scott Huff Ohio Police and Fire Pension Fund
Elect Scott Huff Ohio Police and Fire Pension Fund
Right now your pension is under attack, make a difference and vote
Member of the Cleveland Police Department Since March 1997
Financial Secretary of the Cleveland Police Patrolmen's Association
Endorsed by the Cleveland Police Patrolmen's Association
Graduate of the University of Akron, Bachelors in Business Administration
Endorsed by the Toledo Police Patrolmen's Association
Endorsed by the Youngstown Police Patrolmen's Association
Endorsed by the Ohio Patrolmen's Benevolent Association
Securities Licensed, Series 7, 66 and State of Ohio Life and Health
This could be the most important vote for your retirement. Right now your pension is under attack. The way you envisioned your retirement is under scrutiny by Ohio House and Senate Legislators. These politicians do not understand our everyday life and what we do to deserve the minimal benefits we get. Vote for a candidate who will attempt to educate and get involved with the legislators so that our pension remains a benefit for us. Electing the incumbent has not proven beneficial so it is every bit important for a change. Every vote counts, it takes one minute to check the box and place the ballot back in your mailbox. Please take the time to vote.
Please Vote for Scott Huff Trustee of the Ohio Police and Fire Pension Fund
to: OPBA Members
Despite the dedicated and painstaking efforts on behalf of all public sector employees, the Public Safety Coalition (Protect Ohio Protectors) and other public sector unions against SB 5, the Republican's passed the bill and Kasich has signed it.  After untold hours of dealing with these Republican State officials, I have become  well -educated in the game of rare political maneuvers used by these elected public servants to misrepresent the facts to their constituents. To date every poll  of Ohio citizens show that the majority of the voters are against SB 5.

When the final vote was tallied at the Statehouse only five of the Republican House members and six Republican Senators voted in our favor against SB 5. We will remember who our friends are in the next election and every one thereafter.

Tuesday April 5th I will be attending the weekly meeting of the "coalition" in Columbus.  We will be discussing the petition drive and the referendum effort, and funding needed for this massive campaign.

On Wednesday, several other OPBA executive board members will attend a training seminar in Columbus on how to properly obtain signatures for our petitions to get this issue to the ballot. 

On Thursday April 7th the OPBA will have its regularly scheduled Board of Directors meeting at the OPBA office at 7:30pm. Your directors will be updated on the pending petition drive, referendum .  We will provide petitions for you to circulate. 

There will be  huge rally at the Statehouse on Saturday, April 9, from noon to 1500.  We are hoping for 20,000 Ohioans to attend. The OPBA would like a good showing from our members ,  families and friends. The OPBA and the CPPA are donating buses to take people to Columbus. They will leave the CPPA hall located 1303 W 58th (one block North of Detroit Av.) at 9:00am. We will make stops along the I-71 exits if anyone wants to  park their vehicles and ride with us.  If interested contact the OPBA office at 440-237-7900 and ask for Trish.   

The OPBA will be organizing meetings in various locations throughout the State. These will be held within the next few weeks. Please make every effort to attend the meeting in your area. (Toledo/ Columbus / Cleveland/ Warren). 

SB 5 is devastating to the Public Safety Employees collective bargaining rights. Not only will SB 5 affect our pay, benefits and safety but our Constitutional employment rights. SB5 not only affects Ohio's public sector employees but undoubtedly opens the door to attack private sector unions as well. This bill is devastating to collective bargaining as we know it. This affects the public sector now but will soon affect the private sector unions and the rights of every citizen.
(Stay updated at opba.com and opba facebook)

Protect Ohio Protectors :
Ohio Patrolmen's Benevolent Association, Fraternal Order of Police of Ohio Cleveland Police Patrolmen's Association, Toledo Police Patrolmen's Association, Toledo Command Officers Association, Ohio Troopers Association, Northern Ohio Fire Fighters Association, Ohio Professional Fire Fighters Association. 

The OPBA does not have a Political Action Committee Fund and does not donate financially to political candidates. We will endorse candidates upon request if they return a questionnaire concerning their stand on law enforcement issues and collective bargaining which is reviewed by a committee of the executive board.
Frequently Asked Questions Related to Funding and Reporting SB 5 Referendum
(1) What should an individual union member do if they want to contribute to the SB 5 referendum effort?
Before the referendum is certified for the ballot (about July 15, 2011), individual members can give money directly to their union to help with the effort.  The union does not have to report such contributions.
After the referendum is certified for the ballot (about July 2011), individual members will also have the option of contributing directly to the Ballot PAC (the political action committee that has been established to oppose SB 5).
A labor union will only have to document the name, address, occupation, amount, and date of contribution if the union is collecting money from individual members on behalf of the Ballot PAC (the political action committee that will be established to oppose SB 5 after the referendum is certified for ballot), otherwise contributions to the union by a member do not have to be documented, so long as those funds are not used to urge the general public to vote "No" on the ballot issue.  Such funds should be used for communications with members and to mobilize members.
Please note:  Contributions to SB 5 referendum effort should NOT be solicited through a public employer's email or mail system.

(2) Can a labor organization use dues money to help gather referendum signatures or to inform members or the general public about SB 5?
Yes, union dues can be used for all activities related to SB 5.  There is no limit on the amount of money a union can spend on such activities.
Unions should keep track of the amount of money paid to any staff or members to gather referendum signatures.  The committee circulating the petition must report any one who is paid to circulate petitions.  Those members gathering signatures on a purely volunteer (not paid) basis do not have to be documented.

(3) What kind of reporting is a local union required to do regarding SB 5 expenditures?
Any union staff or other person who is compensated by the union to coordinate, supervise or manage the collection of signatures must complete and file with the Secretary of State Form 15 before engaging in such activity.  Likewise, the union must file a Form 15 before allowing the person to begin such activities.  Only circulating a petition is not coordinating, supervising or managing the collection of signatures and does not require the filing of a Form 15.
If a union spends money educating its members and their families about SB 5 (member-to-member communications), no reporting is ever required.
Until the referendum is certified for the ballot (about July 15, 2011), the money a union spends on educating the general public about SB 5 does not have to be reported.
Unions should keep track of the amount of money paid to any staff, members or other individuals that gather referendum signatures.
After the referendum is certified for the ballot (about July 15, 2011), all money spent (including the use of office space, staff and supplies) by unions on educating the general public about SB 5 must be reported on both October 27, 2011 and December 16, 2011 on the Secretary of State's Form 30-B-1 (Contributions from a Corporation or Labor Organization Supporting or Opposing a Ballot Issue) found at: http://cfoneline.sos.state.oh.us/sos/forms/CampaignFinance/30b1.pdf.
Frequently Asked Questions Related to the Collection of Signatures SB 5 Referendum
(1) Who can sign a petition?
Must be registered to vote in Ohio
If a person wants to sign the petition but is not registered to vote, or does not know if he/she is registered to vote at his/her current address then, the person  can register to vote at the time of signing the petition.
Circulators cannot sign their own petitions.
(2) Who can circulate petitions?
Must be at least 18 years of age.
Must be a citizen of the United States and have NO felony convictions.

(3) What are the requirements related to the collection of signatures?
Signatures must be witnessed by the circulator.
The signature must be made by each individual who signs the petition.
The name must be legible.
The signature must be an original signature in ink
The name and address indicated on the petition must be the same name and address used for voter registration.
The signer must sign on the petition that contains signatures of individuals registered to vote in that same county.
If a petition contains signatures of individuals in more than one county the Ohio Secretary of State will determine the county from which the majority of signatures came and count those and consider those from other counties to be invalid.
No one can sign for another person.
A copy of the bill must be attached to each petition for which signatures are obtained.
Completed voter registration materials must be turned in immediately and in accordance with your instructions from your supervisor.
Secure petitions when not circulating them.
No part of the statement on the petition should be altered, erased, or notated between the lines or in the margins. Do not add any additional information on the petition.


(4) What is required of petition circulator?
The circulator must witness every signature on each petition circulated by the individual.
The circulator must complete the verification paragraph included at the end of the petition by signing and including his/her address on the lines indicated.
If the circulator is paid, the name and address, including zip code of the employer must be included on the blank indicated on the form. If the circulator is not being paid to circulate the petitions, leave the space blank.
The circulator may complete any part of the petition for any signer, except for the person's signature.
The circulator should not get into a debate with the signer.

(5) Can signatures for petitions be collected at work?
The signatures cannot be collected while the circulator and/or the employee who is signing the petition are on work time.
If employees are not on work time, such as a break at lunch, the employees must follow the employer's policy. Additionally, if the employer's policy restricts such activity, but the policy has not been enforced, the employer may still be able to restrict if the employer give  notice of its intentions to strictly enforce the policy.

(6) Can information regarding the collection of petitions be posted on a work bulletin board?
Please refer to the parties' collective bargaining agreement and/or the employer's policy regarding the posting of materials.

(7) Can the employer's equipment, such as computers, be used to assist in conducting a petition drive?
No, the employer's supplies and/or equipment should not be used to assist in conducting a petition drive.

(8) Should work email addresses be used to discuss petition drive efforts?
No, you should not use your work email address to contact others.
You should not contact others on their work email addresses regarding the petition drive.

(9) Can signatures be collected by employees who are members of the union, at the work site in common areas, such as the building lobby or cafeteria, where the public, customers, and employees are available and work is not being conducted?
Can school employees, such as bus drivers, cafeteria workers, secretaries, and teachers, collect signatures on or off school grounds, at such activities as PTA meetings, athletic events, or science fairs?


Before collecting signatures at the workplace or at school events, check the building's policy on solicitation and follow the policy.
(10) Can signatures be collected outside of polling places for the May election?  If so, are there any restrictions?
Signatures can be collected from voters going into or leaving a polling place so long as you are standing outside of the two small American flags outside the polling place.
O.P.B.A. TRAINING SEMINARS Calling all OPBA Members:
The OPBA has scheduled four training seminars regarding the upcoming referendum.
Call Trish Newcomer by April 18, 2011 at 800-457-4190 to reserve your seat for one of the following locations.  A lunch will be served at each location.

Monday April 25, 2011
10:00 am till 1:00 pm
Buena Vista Cafe
1305 Buena Vista Ave NE
Warren, OH  44483

Tuesday April 26, 2011
10:00 am till 1:00 pm
Holiday Inn French Quarter
10630 Fremont Pike
Perrysburg, OH  43551

Wednesday April 27, 2011
10:00 am till 1:00 pm
Holiday Inn Cleveland-South
6001 Rockside Road
Independence, OH  44131

Friday April 29, 2011
10:00 am till 1:00 pm
Courtyard by Marriott Columbus West
2350 Westbelt Drive
Columbus, OH  43228
Ohio Union Bill Signed Into Law By John Kasich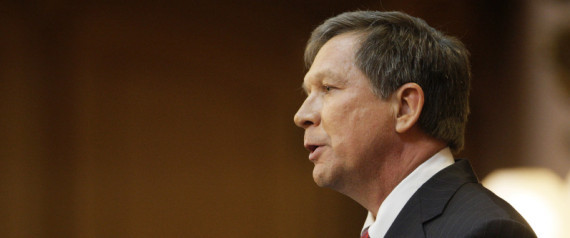 (AP) CLEVELAND - Gov. John Kasich on Thursday signed into law a limit on the collective bargaining rights of 350,000 public workers, defying Democrats and other opponents of the measure who have promised to push for repeal.
His signature came a day after the measure was approved by the state House and Senate, which are led by his fellow Republicans.
The measure prompted weeks of pro-labor protests by thousands of people amid a national debate over union rights, keyed by a similar bill passed in Wisconsin and signed by the governor there.
The 350,000 public workers covered under the law can still negotiate wages and certain work conditions - but not health care, sick time or pension benefits. The measure also does away with automatic pay raises and bases future wage increases on merit.
It applies to teachers, nurses and many other government workers, including police and firefighters, who were exempt in the Wisconsin measure.
Kasich, a first-term governor, has said his $55.5 billion state budget counts on unspecified savings from lifting union protections to fill an $8 billion hole. He and his GOP colleagues argue the bill will help city officials and superintendents better control their costs at a time when they too are feeling budget woes.
Democrats opposed the measure but offered no amendments to it. Instead, they delivered boxes containing more than 65,000 opponent signatures to the House labor committee's chairman.
Many Democrats, along with other opponents, have vowed to lead a ballot-repeal effort if the measure passes. Backers of a ballot challenge have 90 days after Kasich signs the bill to gather 231,148 valid signatures from at least half Ohio's 88 counties to get it on the ballot.
The bill signing comes two days after a House labor committee added GOP-backed revisions that make it more difficult for unions to collect certain fees.
The committee changed the bill to ban automatic deductions from employee paychecks that would go the unions' political arm. They also altered the measure to prevent nonunion employees affected by contracts from paying so-called "fair share" fees to union organizations.
Unions argue that their contracts cover those nonunion workers and that letting them not pay unfairly spreads the costs to dues-paying members.
Ohio's Anti-Union Law Is Tougher Than Wisconsin's
After Wisconsin's labor battle seized the nation's attention, after nearly 100,000 people rallied in Madison to protest a bill to curb public-sector collective bargaining, the Ohio legislature has, with far less fanfare, enacted a bill perhaps even tougher on unions.
It is perhaps surprising that Ohio faced more limited public demonstrations considering that its bill, which Gov. John R. Kasich signed Thursday, goes further than Wisconsin's in several important ways.
While both laws severely limit public employees' ability to bargain collectively — they both prohibit any bargaining over health coverage and pensions — the Ohio law largely eliminates bargaining for the police and firefighters. Wisconsin's law leaves those two groups' bargaining rights untouched. Ohio's law also gives city councils and school boards a free hand to unilaterally impose their side's final contract offer when management and union fail to reach a settlement.
Notwithstanding the differences in legislation, the push by those states' Republican governors and Republican-dominated legislatures points to a pendulum swing away from what many unions and Democrats see as a fundamental right for public employees: the right to bargain over wages and benefits.
Moreover, at a time of huge budget deficits and of Republican dominance in many states, including states like Ohio and Wisconsin where unions once had swaggering power, the pendulum has swung toward the taxpayer instead of the government workers paid by the taxpayer. And after five decades in which public-sector unions have grown far stronger in membership and political power, Mr. Kasich and Gov. Scott Walker of Wisconsin seem intent on checking their rise.
State Senator Shannon Jones, a Republican and chief sponsor of the Ohio law, said curbing collective bargaining made sense when so many states, cities, counties and school districts faced daunting budget deficits. She said the law would help public employers hold down compensation costs, especially soaring health and pension costs, as a way to minimize any layoffs and reductions in public services, whether police patrols or garbage collections.
"The economy has changed fundamentally," Ms. Jones said. "Not only families and business have to change to adapt to tougher economic circumstances, but governments have to adapt, too."
Many Democrats and labor leaders said the law was an effort to balance state and local budgets on the backs of Ohio's 360,000 public employees. They argue that the driving force behind the law was ideological and political. "It's a politically motivated effort to weaken and destroy the unions that the leaders of the Republican Party perceive as their biggest political opponents," said William Leibensperger, vice president of the Ohio Education Association, which represents 130,000 teachers and other school employees.
William Even, an economics professor at Miami University of Ohio, said the law resulted from another difference between the parties. "There's a definite philosophical disagreement between the Republicans and Democrats about what unions do to the efficiency of government operations and whether unions have led to overcompensation for public workers."
When the Ohio Senate approved the bill Wednesday night, 17 to 16, all 17 supporters were Republicans, and when the Ohio House passed it earlier Wednesday, 53 to 44, all of the supporters were Republicans.
In Ohio, as in Wisconsin, mayors, school superintendents and county executives are already thinking through how to use the legislation to hold down public employees' raises and health costs. At the same time, in Ohio, as in Wisconsin, Democrats and union members are maneuvering to overturn the legislation.
In Ohio, union leaders plan to dispatch rank-and-file members around the state to collect signatures to trigger a referendum. And in Wisconsin — in addition to a lawsuit that has resulted in a court order temporarily suspending the anti-union law for violating the open meetings act — unions have collected tens of thousands of signatures to hold recall elections aimed at ousting a half-dozen Republican state senators, as a first step to repeal the law.
Ohio political and union leaders say there were fewer protests than in Wisconsin because Governor Walker moved first, making him and Madison a lighting rod. Moreover, Madison has a famously liberal university and Wisconsin was the home of the progressive movement. Still, Ohio unions boast that their biggest rally in Columbus attracted 20,000, just a fraction of Madison's weekly Saturday rallies.
The Wisconsin law is in ways tougher toward unions — it bars any public employer from deducting workers' dues from their paychecks and forwarding it to union treasuries. It is also requires a vote each year to determine whether government workers want to keep their union.
Both states would let government employees opt out of paying any union dues or fees.
The Wisconsin law generally limits raises to the Consumer Price Index, although under the Ohio legislation if a public employer accepts the union's contract offer and if that forces a community to raise taxes to pay for it, then voters can overturn the contract through a referendum.
"It's pretty much evisceration of collective bargaining in both states," said James Brudney, an Ohio State law professor.
Louis W. Blessing, a Republican House member who represents Cincinnati, said his party had pushed for the law at the behest of taxpayers who feel public unions have become too powerful, their pensions too generous. "We're trying to level the playing field between the two parties, between the taxpayer and the unions," he said. But Mr. Blessing acknowledged that political motivations also came into play. "It's clear the unions support the Democrats," he said. "I'm sure that made it easier to pass."
Governor Kasich has repeatedly said the law would give communities the tools they need to hold down labor costs to help reduce layoffs. For instance, Ohio's office of collective bargaining estimates that replacing statutory step pay increases with merit pay will save the state $75 million a year and local governments $393 million a year.
Armond Budish, the Ohio House Democratic leader, said, "This bill is an effort to camouflage the pain that the governor's huge budget cuts are going to cause."
Miamisburg accepting applicants from experienced Police Officers
Police Officer - Lateral Entry

The City of Miamisburg, Ohio (population 20,000) is accepting applications from experienced Police Officers.  Minimum qualifications are high school diploma or equivalent; minimum of one year of service as a full-time police officer with a city, county, state, village or township law enforcement agency; certified as a law enforcement officer by the Ohio Peace Officer's Training Commission or a law enforcement training commission from another state; must not have been out of active law enforcement status for more than two years; possess a valid Ohio driver's license at the time of appointment; and at least age 21.

Base pay range is $48,229 to $63,312 annually with an excellent benefits package.  Starting rate of pay is dependent upon experience and training.  Candidates must submit completed Application and Personal History Questionnaire materials to Human Resources by April 22, 2011 which can be obtained from the Employment section of the City's website at www.ci.miamisburg.oh.us or at the Miamisburg Civic Center City Administration Office, 10 N. First Street, Miamisburg, OH 45342.